K Brut Cuvee Sparkling Wine
Coming Soon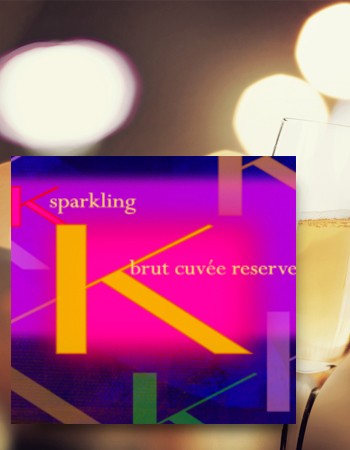 t is a once in a lifetime experience, but we know we will continue creating a genuine méthode champenoise although now the adventure takes on a new, yet fascinating course.
In those ten years, every time we walked into our straw-bale winery we gazed expectantly upon the bottles stacked in the 150-year old French riddling racks. The process began in earnest with long weeks of hand riddling -- an event in which all of us shared. No life is complete without being a riddler!
So behold our 2003 Kathleen Méthode Champenoise Brut Cuvée sparkling wine!
If there were one reason to belong to a wine club this would be it. Find this art work anywhere else. There is no price that can be assigned to this bottle that possibly relates to our time and dedication, and yes... love! A $1000 per bottle? Not even close.
We first had to redefine hand-crafted as we delved deeply in the nearly lost but meticulous art of genuine méthode champenoise. Starting with harvest 2003, the Chardonnay (90%) and Pinot Noir (10%) grapes were hand-selected and hand-harvested then hand-pressed. Once fermented the wine was hand-bottled and each bottle was readied for the second fermentation. Then the fun began -- hand riddling! Well, that was a challenge that has no parallel. Once completed the wine was laid down and further aged in our sustainable, straw-bale winery en tirage for over six years! Finally, after more than half a decade, our brut cuvée was manually disgorged and crowned with our secret blend, our dosage. Then slowly but surely -- we corked and applied the wire cage, and the process of hand-labeling and... well, now we will place it in your hands!
Please -- a toast to the art of hand-crafting sparkling wine; this may be the first time you have had the true experience!
"Vineyards are planted only in areas that have this snowy-white limestone. The excellent drainage of this porous white chalk, its rich nutritious top layers of soil, and the auspicious microclimates of the region make growing grapes for champagne ideal. In this region near Paris, wherever there is limestone topped with soil composed of mineral deposits and fossils of ancient marine life, there are vineyards. The value of the snowy-white chalk is so high that vines are planted to the rim of most villages in Champagne. Not a chalky hectare is wasted; vines are sometimes planted right up to the back door of a shop or restaurant." From the book Champagne -- the Spirit of Celebration by Sara Slavin and Karl Petzke.
The authors could be describing Carmody McKnight's limestone and volcanic rich vineyards. If this is the terroir required to make the finest champagne in the world, and if we know that Carmody McKnight Estate Vineyards have the added advantage of superior microclimates, would one not be compelled to create a sparkling wine? Emphatically, yes! Besides -- champagne is Kathleen's favorite wine. Naturally, Kathleen's Brut Cuvée is the supreme version of the bubbly.
Chardonnay 90%, Pinot Noir 10%.