Cadenza
cuvee au naturel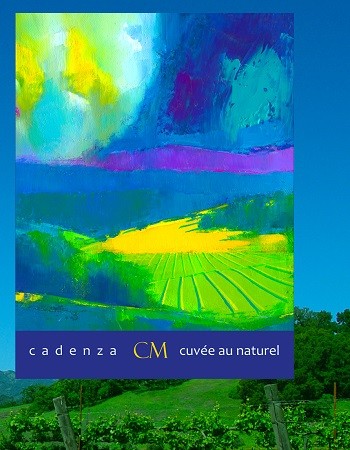 We are proud to present our authentic estate, hand-bottled in our straw-bale winery 2010 Cadenza -- Meritage -- 46% Cabernet Sauvignon, 35% Merlot, 19% Cabernet Franc. The California State Fair Wine Competition is the most prestigious and valued of wine competitions.
The label on the Carmody McKnight Cadenza also won the highest of prizes in the major label competition -- the Orange County Fair, where all California labels are automatically judged. Out of 3,700 labels, the Meritage label (graphics and painting by proprietor Gary Carmody Conway) won the Double Gold and Best of Show! This is the first time that any wine won a double gold for its wine as well as its label in the top competitions!

This "Meritage" is art, no question about it. This is our "first edition" which tells the story, for it is an artist's term indicating that the creative process can be extended over editions for the sake of heightened individuality. It is also the art of the musician demonstrating a lifetime of consummately developed skills displayed in an elaborate passage, usually improvised, near the end of a musical composition. It is the Cadenza with only the art and art alone in evidence.
Cadenza elevates the terroir experience. But there is no terroir without the "natural" vine, on their own root, pushing deeper into the soils. The true terroir experience is only in evidence when you create the "Natural Wine." Not only is Cadenza the champion of wines; it is the champion of "Natural Wines." Carmody
McKnight derives from original, own-rooted, ungrafted, non-GMO grapes with no chemicals in the vineyard or in the wine. Truly sustainable from a natural 30-year mineral-rich vineyard to a natural non-factory winery -- an above ground cellar guaranteeing native yeasts and classic wine making with realglorious flavors. No other wine is so endowed!
Gorgeously complex, a wondrous display of spicy, mocha-laced currant intermingling with ripe black cherry, cassis, sage and white chocolate. Deeply-layered, intense, with a long, complex finish.

Harvest Dates: CS October 17, M November 1, CF October 23
Blocks: (CS), 4 (M), 3 (CF)
Oak: 60% French, 40% American, 10% New
Aged: 40 months
Bottling Date: April, 2014
Production: 116 Cases